Central High School


Class Of 1962
In Memory
Dennis Thompson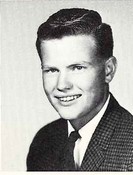 Dennis Wayne Thompson, age 68, of Thompson, N.D. passed away at Altru Hospital on Monday, August 20, 2012, from complications due to diabetes.

Dennis was born March 27, 1944, the son of Thelman and Geneva (Amble) Thompson of Grand Forks. He was raised on the family farm in Thompson, N.D. Dennis attended grade school in a one-room schoolhouse in Thompson before graduating from Grand Forks Central High School in 1962. He graduated from the University of North Dakota and married Bonita Fortin in 1966. Dennis worked for Northwest Airlines in Minneapolis for a few years before returning to Grand Forks with Bonnie and sons Robert and Joffrey. He returned to full-time farming with his father Thelman and brother Mark in 1971.

Daughter Kimberley was born in 1974. Dennis and Bonnie raised Bob, Joff and Kim on Belmont Road in Grand Forks from 1972 to 1986.

Dennis married Carol Ann Fosness in 1992 and has resided on the family farm in Thompson for the past 20 years. He retired from farming in 2006.

Dennis had fond memories of growing up on the family farm, riding horse to grade school and hunting with his dog Rocky. He loved working on the farm with his father, brother and three children. During the winters, Dennis would drop off the boys at the hockey rink and go shoot archery and play cards with the guys. He was a multi-year North Dakota state champion in archery. Dennis also was an avid hockey fan and loved watching his boys play as well as his beloved Fighting Sioux. He also enjoyed deer hunting, bowling and pool, and was always a dog lover.

Dennis enjoyed time with his family including weekends at the lake and attending his grandchildren's events, riding his Harley, and Saturday breakfasts with his cousins. He was most proud of instilling a strong work ethic in his children, his strong Norwegian heritage and living on the farm that has been in the Thompson family for more than 100 years. He was a lifelong member of East Walle Church in rural Thompson.

Dennis is survived by his wife Carol; Son Robert (Katherine) Thompson of St. Paul, Minn.; Son Dr. Joffrey (Maria) Thompson of Grand Forks; Daughter Kimberley (Cameron) Snyder of Minneapolis, Minn.; Grandchildren Andrew, Annika, Luke and Noah Thompson of Grand Forks, Logan and Brennan Snyder of Minneapolis, and Zoe Morris of Grand Forks; sister Judith (Richard) Mazur of East Grand Forks; niece Meghann (Kyle) Zak of Grand Forks; nephew Jonathan Thompson of Grand Forks; step-daughter Jana Morris of Charleston, S.C.; step-son Robert Morris of Grand Forks; and many other cousins and in-laws. Dennis was preceded in death by his parents Thelman and Geneva Thompson; his brother Mark Thompson; and first wife Bonita Thompson. In lieu of flowers, please send memorials to the East Walle Cemetery Fund in Thompson.

Memorial Service: 11:00 a.m., Saturday, August 25, 2012, in East Walle Church, rural Thompson (5 miles South and 1 mile East of Grand Forks Country Club). Lunch will be served at the church following the service.
Family Greeting: 4:00 to 6:00 p.m., with a 6:00 p.m. Prayer Service Friday, August 24, 2012, at Amundson Funeral Home, 2975 S. 42nd St., Grand Forks, North Dakota.