Central High School


Class Of 1962
In Memory
David Monson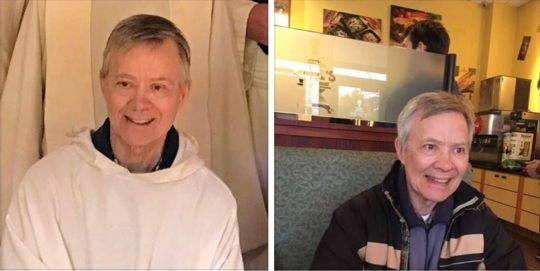 DAVID MONSON (brother Joshua) passed away on Dec 11, 2021 in CA. He was born in Grand Forks on Feb 13, 1944, to the late Harry Monson and Gladys (Johnson) Monson.
He graduated from Central High School in 1962, served three years in the U.S. Army,was stationed in Germany and he also attended UND.
He is survived by his twin sister, Dorothy Patrick of Santa Cruz, CA, Darlene Holien of Grand Forks and sister-on-law Kathy Monson of Bellevue, NE plus many nieces, nephews and cousins.
He was preceded by brothers:Gerald of Bellevue, NE, Eugene of Grand Forks, brother–in-law Dale Holien of Grand Forks.
He took vows to become a monk at New Camaldoli Hermitage in Big Sur, CA and chose the name of Joshua. He was a beloved member of the Hermitage for over 30 years. He found peace and joy while living in the community of Benedictine monks, who cared deeply for him. He will be missed by family and the numerous friends he made at the Hermitage, including visitors from all over the world.
A service will be held later and memorial gifts, in his name, may be sent to :
New Camaldoli Hermitage 62475 Coastal Highway 1, Big Sur, CA 93920.