Central High School


Class Of 1962
In Memory
Mary Kay Stoltman (Marsh)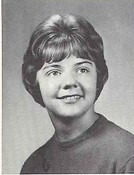 Mary K. Marsh,70, of Grand Forks, ND passed away Tuesday, October 27, 205 at home in Grand Forks.
Mary Kay Stoltman was born November 17, 1944 in Grand Forks, ND the daughter of Leo and Marian (Schultz) Stoltman. She grew up and attended school in Ardoch, ND before moving to Grand Forks, where she graduated from Grand Forks Central High School. Mary married Douglas Marsh on July 19, 1965 in St. Michael's Catholic Church, Grand Forks and they celebrated their 50th wedding anniversary this summer with their children and grandchildren.
Following high school, she attended Wahpeton State School of Science, Wahpeton, ND and earned her Licensed Practical Nurse degree. She went on to attend Northland Community College, Thief River Falls, MN and earned her Registered Nurse degree in 1987. Mary Kay was employed at Deaconess Hospital, St. Michael's Hospital, United Hospital and Altru Health Systems in Grand Forks. She retired after 37 years of nursing in 2008. She enjoyed spending time with family and friends, traveling, reading, and crafting. She was a true caretaker, and was the center of the family.
Mary Kay is survived by her husband, Douglas; children, Troy (Jennifer) Marsh, Thompson, ND, Kristi (Tom) Grzadzielewski and Jason Marsh, Grand Forks, ND. She cherished her six grandchildren, Jeremy, Nicolas, Austin, Amanda, Grace and Brooke. She is also survived by her brothers-in-law, Darrell (Pat) Marsh, Eagle, ID, Mark McLaurin, East Grand Forks, MN; her step sister-in-law, Ginger (Mrs. James) Cronin, Grand Forks, ND; many nieces; nephews and countless friends.
She was preceded in death by her parents, Marian and Leo; a brother, Larry Stoltman; a sister, Shirley McLaurin and step-brothers, James Cronin and Lawrence Cronin.
Mass of Christian Burial: 10:30 a.m. Friday, October 30, 2015 in St. Michael's Catholic Church, Grand Forks, ND.
Visitation: 5:00 to 7:00 p.m. Thursday with a 7:00 p.m. vigil service followed by a Nightingale Tribute to Nurses in the Historic Norman Funeral Home-Gregory J. Norman Funeral Chapel. Visitation will continue for one hour prior to the liturgy in the church on Friday.
Interment: Memorial Park North Cemetery, Grand Forks, ND.