Central High School


Class Of 1962
In Memory
Vicki Dorsher (Kavadas)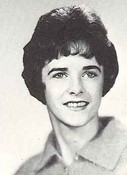 Vicki L. Kavadas, 68, Grand Forks, ND died Saturday, June 2, 2012 in Altru Hospital of Grand Forks, ND.
Vicki Lee Dorsher was born June 1, 1944 in Grand Forks the daughter of Donald and Ruth (Thompson) Dorsher. She was raised and educated in Grand Forks and graduated from Central High School in 1962. Vicki worked for many years wallpapering, painting,and staining with her sister and mother and they shared many laughs. She operated a home daycare center before going on to work for UND Foodservice where she was employed for many years, retiring as a supervisor. Vicki was very artistic. She enjoyed reading, crossword puzzles, and flower gardening. Vicki also had a way with words and had everyone around her laughing. She was a wonderful mother and loved spending time with her grandchildren and great grandchildren.

Vicki was married to William J. Schultz and later to Gabriel S. Kavadas.

Survivors include her daughters, Tami Schultz-Enloe, Grand Forks, Janie (Larry) Schultz-Olderbak, East Grand Forks, MN, Kelly Schultz, Grand Forks and Jodi Schultz, Grand Forks; grandchildren, Katie, Paige, Brooke, Jeff and Chase; great grandchildren, Matt and Lauren; sister, Nancy (Bob) Rynestad, GrandForks; brother, Donald (Anne) Dorsher, Medford, OR; many nephews and nieces.

Vicki was preceded in death by her son, Jeffrey W. Schultz; her parents; and a son-in-law, Michael E. Enloe.

>