Central High School


Class Of 1962
In Memory
Donna Dahl (Friend)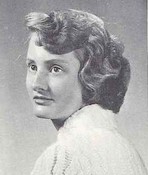 Donna Mae Friend, 68, of Grand Forks, ND died Thursday, August 16, 2012 in her home.
Donna M. Dahl was born June 5, 1944 in Grand Forks, the daughter of Clifford and Birdie (Amble) Dahl. She grew up and attended school in Grand Forks and graduated from Central High School in 1962. She married John D.E. Friend on Sept. 25, 1965 at United Lutheran Church in Grand Forks, ND. They made their home in Grand Forks. Donna worked as a Graphic Artist at Jet Printing and Copy Cat Printing.
Donna enjoyed spending time with her children and grandchildren. She also enjoyed doing wood crafts and watching Sioux sports on TV.
Donna is survived by:
Husband: John D.E. Friend – Grand Forks
Sons: John P. "Johnny" (Stacy) Friend – Grand Forks
James (Amanda) Friend – Aurora, CO
Daughter: Jennifer Friend – Grand Forks
Sisters: Jeanette (Larry) Brokke – Grand Forks
Linda Brokken – Grand Forks
Grandchildren: Courtney, Bailey, Brady, Nicholas, Gavin, Parker and Andrew.
Son-in-law: Brad Verke – Grand Forks

She was preceded in death by her parents; a sister, Rosemary Kalas and a nephew, Lawrence"Larry" Brokke.
Funeral services will be Monday, August 20, 2012 at 10:30 AM in Calvary Lutheran Church, 1405 South 9th St., Grand Forks.
Visitation will be Sunday from 4 to 6 PM with a prayer service at 6PM in Calvary Lutheran Church.
Interment will be in Memorial Park Cemetery.