Central High School


Class Of 1962
In Memory
James Stoltman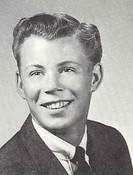 James Stoltman, 54,
Buried at Warsaw, ND Today
Services for James Stoltman, 54, Grand Forks, were held today
(Wednesday) in Holy Family Catholic Church in Grand Forks.
He died Friday, April 17, 1998 in Valley Eldercare at Grand Forks.
Burial was in St. Stanislaus Cemetery at Warsaw, ND.
James Stoltman was born July 16, 1943, at Grafton,
ND, the son of Florian and Helen (Wosick) Stoltman.
He grew up in Grand Forks and graduated from Central High
School. He also attended the Crookston Technical College.
On June 28, 1965, he was married to Patricia Veitch in
Idaho. He lived and worked for farmers in the Grand Forks
area his entire life.
Survivors include: one son and daughter in law, James
and Tracy Stoltman of Lodi Ca.;one granddaughter;and one
sister,Mrs Alex (Georgia) Feltman of Warren.
Preceding him in death were his parents, one sister Beverly
and one brother Jervis.