Central High School


Class Of 1962
In Memory
David Palm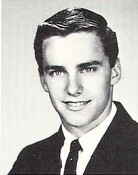 On Thursday, May 7, 2009, Our Lord and Savior held out his hand to David Charles Palm, and said "My faithful son, come with me".
David was born June 5, 1944. He was the 4th of seven children born to Hermine and Frank Palm in Fargo, North Dakota. David was often described as "An All American Boy", but to all who knew him, he was much more than that. He was a gentleman with standards and values that never wavered. The love he had for life and his family was apparent in everything he did.
At the young age of 11, David was blessed to attend a church bible camp. It was there that David made the decision to accept Jesus Christ as his personal Lord and Savior. The journey he began that summer shaped his entire life, and he never looked back. David learned from a young age to live a life of humility. As a young man, he would not even display his many sports trophies as he didn't want to seem boastful; he wanted the glory to be the Lord's.
David was a champion hockey player. His love for hockey found him winning numerous state championships in high school and securing a four year scholarship at Colorado College where he was able to shine on both the defense and the offense of their Division 1 hockey team. Dave's passion for the game continued throughout the years finding him at home watching the Red Wings, or at a Chief's hockey game cheering on 'his' team. As recently as last year, he was on the ice himself, enjoying the thrill of the game.
A true patriot, David served his country honorably as a captain in the Army from 1966 to 1970. In 1968, David was stationed in Vietnam where he served as a Company Commander making daily convoys from Qui Nihon to Playgu. He considered it a privilege and an honor to work along side the brave men as they backed up our troops on the front lines.
In 1966, he was stationed near Lancaster, California. It was there that David met Patricia Nichols. Instantly recognizing each other as their soul mates, they became husband and wife on August 5, 1967. Their love and devotion to each other spanned over 41 years and together they created an incredible legacy. Their three children, David Jr, Derek, and Demoree; five grandchildren, Jordan, Kaitlyn, Madison, Brooke-Lynn, and Devin, have given them many years of wonderful memories; each one holding a special place in Dave's heart. He enjoyed hunting, fishing, camping, playing sports, and playing the trumpet. The cowboy in him found him raising and riding horses with Demoree.
David's career revolved around many years within the banking industry where he worked for FNB and First Interstate Bank. Serving many years in management positions, he was admired, and respected by co-workers, for his high ethical standards, and integrity that came easy to him through his faith in the Lord.
Wherever David found himself, he never failed to be a testimony of how great God is. A large amount of Dave's time was spent serving his church and community. David was very active at Coeur d'Alene First Assembly of God for many years, and was currently attending Real Life Ministries. His love of music found him singing in the choir, in a quartet, or singing with his life's partner, Patty in a beautiful duet that would touch many souls. Most recently, David has been serving the Lord through the Real Life Ministries Thrift Store in Post Falls, where his absence will leave holes in the hearts of his co-workers.
Cancer was something that he never let affect his daily life. Whenever asked how he was feeling he would, without fail and a big smile on his face, answer "great". Never once complaining or giving in to this horrible disease. We all were hoping that he was really "great" and looked forward to many more years with our, husband, dad, grandpa and friend. It has been an awesome privilege to know and love you for the time that we were granted here on Earth. We love you and are looking forward to being with you again in Heaven.
Memorial contributions can be made to the David Charles Palm, Sr. Memorial Fund at the Coeur d'Alene branches of Sterling Savings Bank.
Viewing will be held from 5:00 p.m. until 7:00 p.m. Tuesday May 12th at Yates Funeral Home, Coeur d'Alene Chapel. Funeral Service will be held at 1:00 p.m. Wednesday, May 13th at Real Life Ministries #1 in Post Falls followed by a graveside Service at Coeur d'Alene Memorial Gardens.