50th Hockey Champ Reunion
50th Reunion State Hockey Championship Photos from Marv Cooley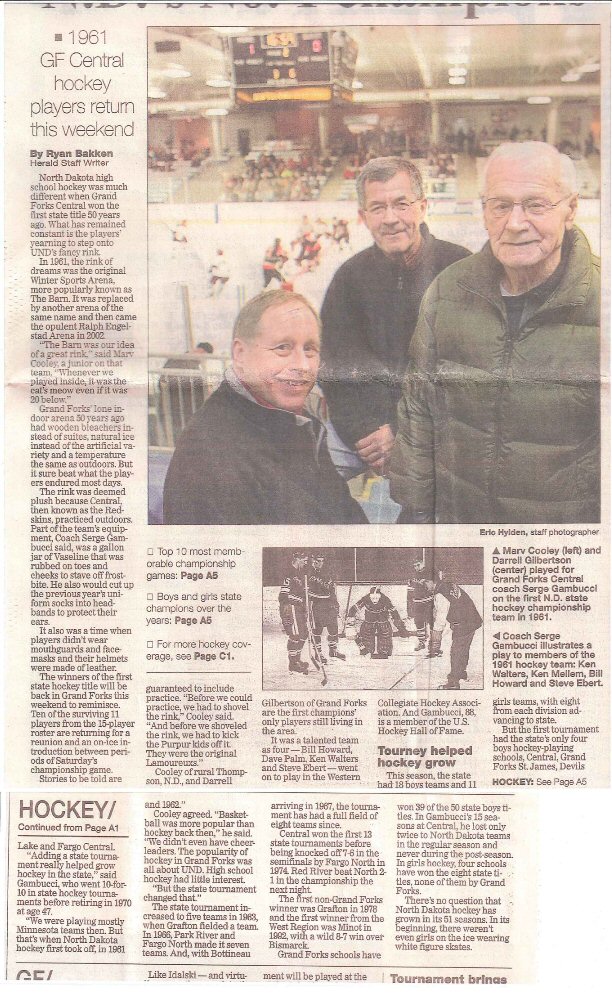 The Old Barn
While it was known by various other names from time to time (including, occasionally, by the "Winter Sports Building" sign over its entryways), "Barn" seemed especially appropriate for the original indoor home of Sioux hockey, located on the southeast edge of the campus beside the railroad tracks. A quonset covered with corrugated steel, it looked like it would be more in place on a farm than on a campus.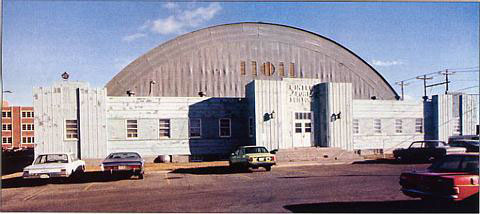 Built in 1936 for $46,000 as a Works Progress Administration project, the Barn saw its first games that year when UND swept North Dakota Agricultural College (now North Dakota State University) 6-5 and 5-0. In its early days it was also used by track and football teams, and during World War II the army trained troops in it. The final competition there, 394 games later, was a 10-2 win over the University of Michigan in league playoffs on March 8, 1972. It was used for storage between that time and its demolition in the summer of 1978 at a cost of almost $30,000.
Its lack of physical beauty was exceeded only by its shortage of creature comforts. In a land that's no stranger to 20-below-zero temperatures, the playing and spectator seating areas were unheated. A myriad of other inconveniences in the old Barn constituted what for most people other than loyal Sioux fans would have been a place to avoid. But cold was the overriding issue.
When it was particularly frigid outdoors, inside it was often worse since what little warmth the outside sun could provide did not, obviously, get in to warm it up. Big crowds helped. The late Al Purpur tended the structure and was as much a part of a long period of UND hockey history as players and coaches. He said that when the building was jammed to its absolute maximum of 4,000, including students literally hanging from the rafters (3,868 was the official seating figure), the temperature would go up as much as 20 degrees, basing his claim on thermometer readings he took.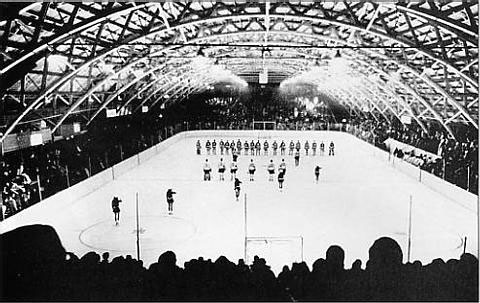 Despite being a dominant matter, cold wasn't always the concern. By contrast, warming rooms located at each end of the Barn (the west end was original and the east added later) were at least that warm, and sometimes reached uncomfortable levels when fans were crammed body-to-body between periods. Those close-quarter conditions also made treks to the concession stands and restrooms a plan-ahead undertaking. And if all of that wasn't enough, in those days before smoking was considered a health hazard, the warming rooms were thick with a haze from cigarette smoke.
Another "primitive" aspect of the Winter Sports Building was that until 1953 Purpur made and maintained ice without the benefit of an artificial plant. And even after its installation, a between-period entertainment (for those who weren't forced by the cold into the warming rooms) was watching him artfully resurface the ice with a pre-Zamboni apparatus he had cobbled together and which was pulled across the ice. It consisted of two barrels, one welded on top of the other, pipes, and valves that directed hot water to the ice through a canvas strip at the bottom rear of the Rube Goldberg contraption ("My barrel flooding outfit," Purpur called it).
Young fans (in exchange for game admission) prepared for resurfacing by shoveling shavings and snow off the ice from the preceding period's action. Many of them are now UND alumni who harbor fond memories of being part of Purpur's ice resurfacing crew.
Another occasional challenge for fans was dodging snow that fluttered down through seams in the corrugated steel roof of the arena while trying to find tolerable seating on hard, splintery bleachers. On some evenings, heat from the crowd inside and (rare) milder temperatures outside changed that snow to water. Both situations also affected ice surface maintenance for Purpur and his assistants.
And what about the chicken wire? No, the Barn never had any chickens. But chicken wire strung between pipes atop the boards had to make do as a poor man's plexiglass. However, the wire mesh permitted an "intimacy" between spectators and players at the Barn that was difficult to find at any other hockey rink at that level of play.
But fans added all of those apparent minuses together and came up with one big attitudinal plus about the home of their beloved Sioux hockey team from the 1940s through the 1960s. The adverse conditions seemed to fire their enthusiasm, and it was also argued that they gave UND a decided edge. The Barn had a lot going for it, not only for the fans but for the program. There, a game was more than just a game; it was a unique experience that demanded endurance and dedication. It was an adventure and camaraderie. It was looking with pride at the scoreboards on which many a Sioux lead often only glowed fuzzily visible through the frequent fog, brought about by the arena's combination of indoor-outdoor climatic conditions.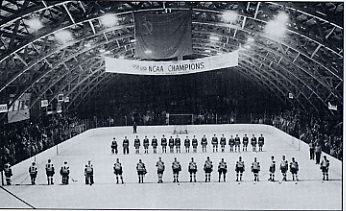 Those "advantages" eventually became handicaps, however. The cold and unpretentious Barn hampered recruiting; moreover, other teams in the league began to grumble about not making trips to Grand Forks. The prospect of being forced out of its prestigious Division I NCAA major college hockey status provided the impetus in the late 1960s for UND to begin fund drives for a new winter sports venue. The beginning of the end of hockey in the Barn was under way and the anecdotes and memories about the old place that gave impetus to UND's hockey glory were taking shape.
But vestiges of the old Barn linger on. Six 12-foot long flower planters that have been placed in the median of University Avenue since 1977 were constructed from planking of the bleacher seats in the old building. And a large UND banner which was pilfered from the rafters of the "Barn" was returned many years later by a loyal alum and was on display in the old Ralph Engelstad Arena.